Alaya Mall
What is Alaya Mall
Alaya Mall is an app or navigator that allowed our merchants to bring their business online whereby it ready link up with Alaya Cloud Software and IRS POS System.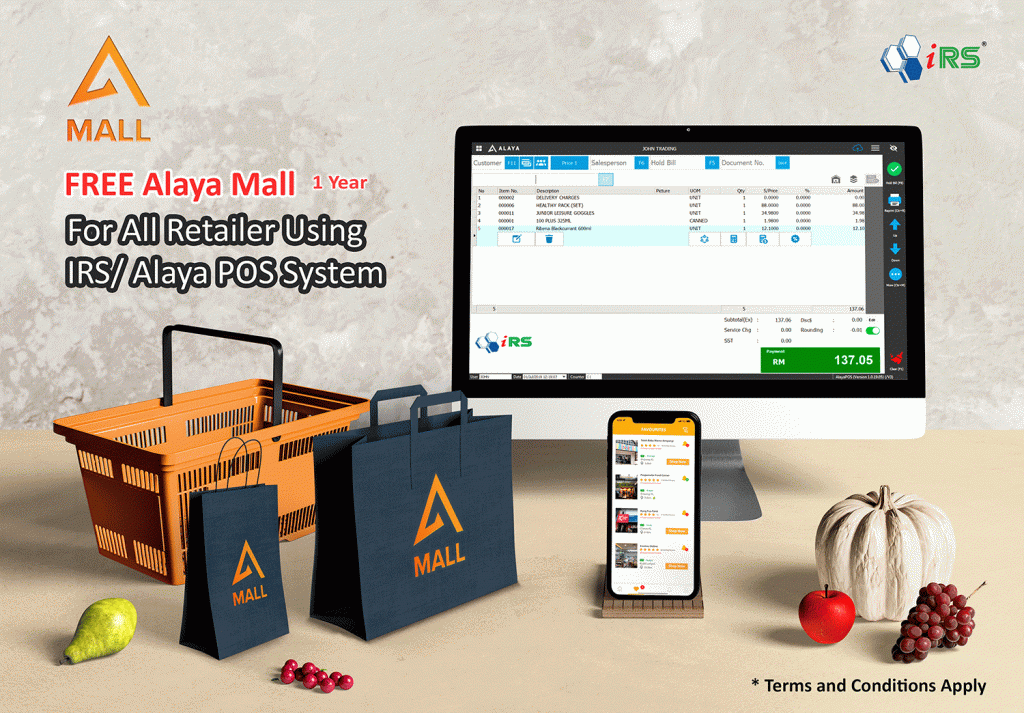 What can Alaya Mall Do?
The reason why Alaya Mall exists is to help all the retailer in Malaysia to do a digital transformation from offline to online as this is the trend that we known as "new normal".
Once you integrated with our IRS or Alaya POS System, you will able to sell online to the consumer that comes with delivery service and payment gateway that already been prepared by IRS Software.
Meanwhile, our Alaya Mall is now giving out FREE (1st year) for all retailers that using or purchase the IRS / Alaya POS system, so don't miss out on the opportunity.

Alaya Mall Delivery Partner – EasyParcel
You may ask how wide is the coverage area for the delivery service, and the answer for you is we partner up with Easy Parcel that cover nationwide in Malaysia.
EasyParcel as a whole is a web-based parcel consolidator and E-commerce shipping solutions provider, or to put it into simple words, we provide an easy-access solution for delivery service bookings.
Alaya Mall Payment Gateway Partner – Ipay88
Worry-free about the payment gateway as we partner up with Ipay88 as well, a leading regional payment gateway provider in southeast Asia since 2006 with more than 10,000 merchants regionally and globally.
What is the benefits using Alaya Mall?
The first benefit is once you integrate with the POS system, all the invoices will be auto-generated from the POS system if there is any order received from Alaya Mall.
Secondly, your customer able to check membership points and purchase history through the Alaya Mall Application no matter your customer spends on your offline or online shop. All the databases will be combined and sharing between your physical shop and virtual shop in Alaya Mall Shop.
Thirdly, you will able to send out an unlimited notification to your customer once they put your shop as their favorite shop. No more traditional and costly way to SMS or Whatsapp blast to your customer, as there is a risk that your phone number gets ban if someone reports you.
Fourth, you only need to key in your item list and details on your pos system and tick whichever you want to sell in Alaya Mall. Everything will be auto-sync up to the Alaya Mall include price and stock level.
Fifth, our Alaya Mall is compatible with Andriod and IOS device. It is convenient for all the merchant or end-user to use this mobile application.
What you need to do if you want to apply Alaya Mall
If you're interested after reading the article, you may click on this hyperlink to meet up with our sales consultant to do a free demo for you without any cost, is free.
BACK TO BLOG PAGE