BUY IRS POS SYSTEM NOW
WITH up to RM5,000 MATCHING GRANT
IRS Retail POS System Interface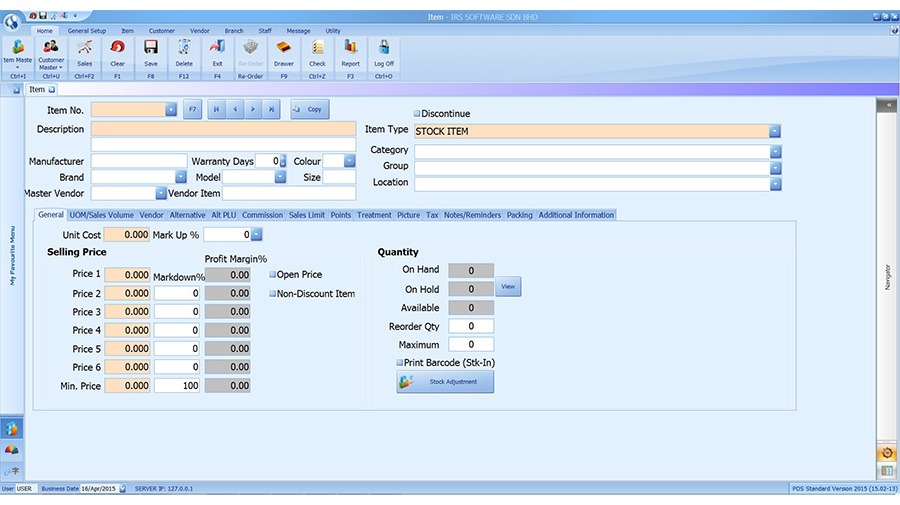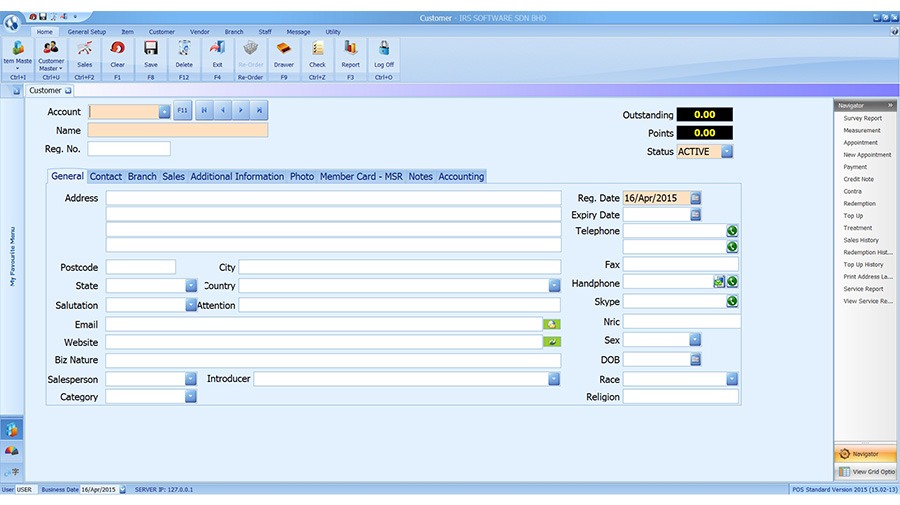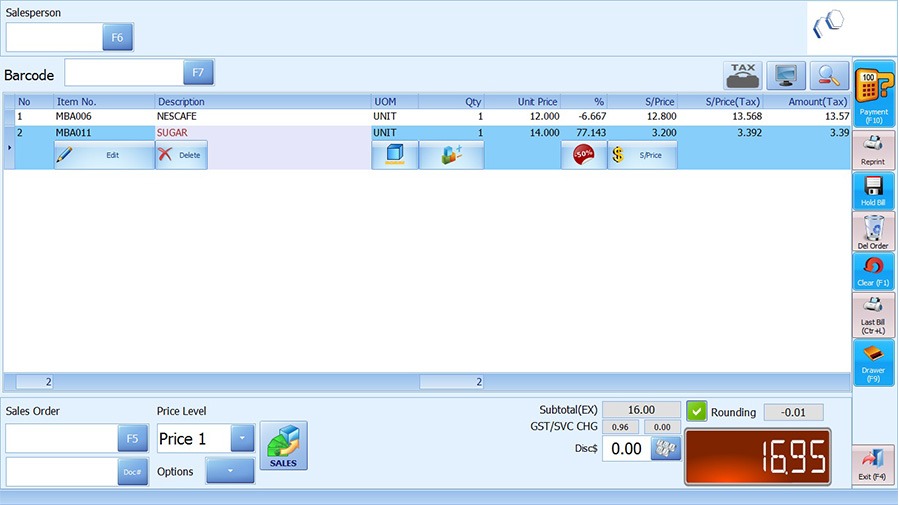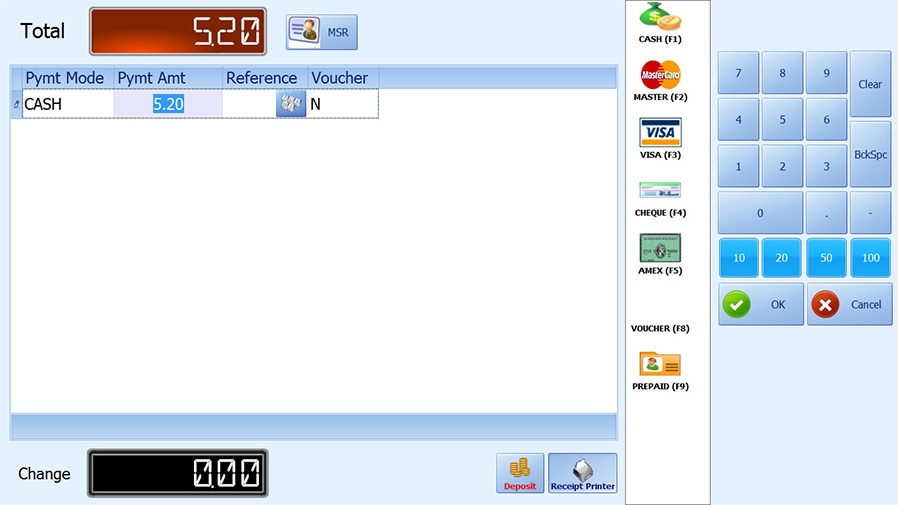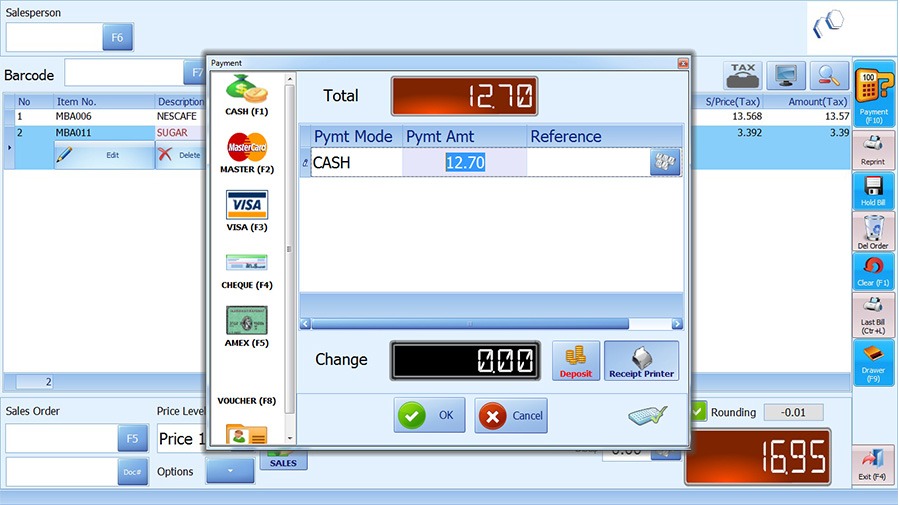 IRS F&B POS System Interface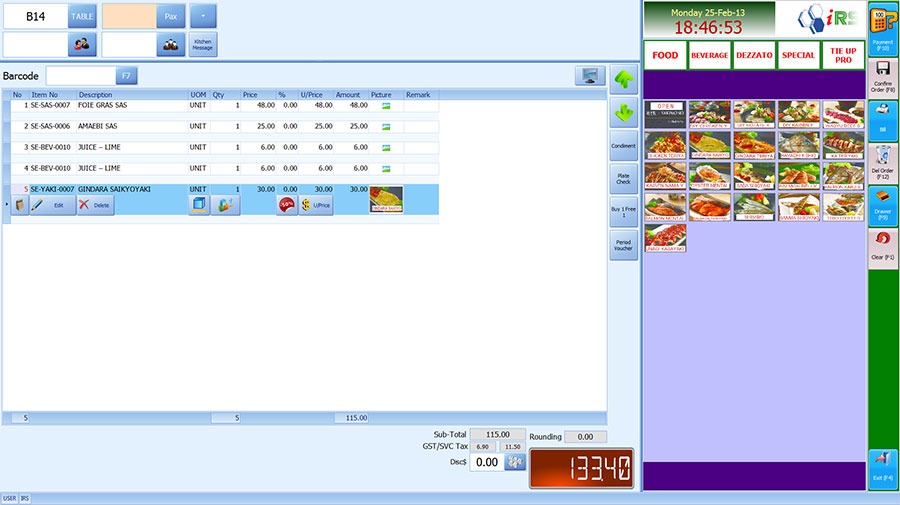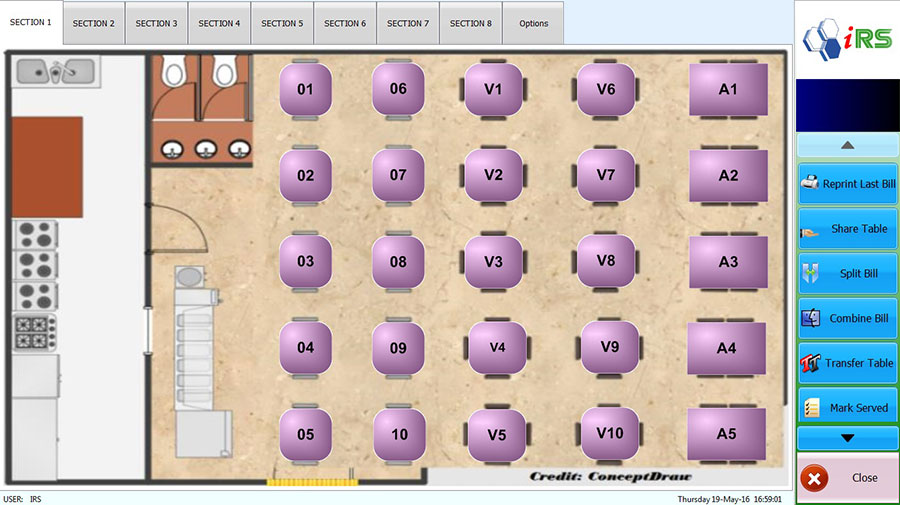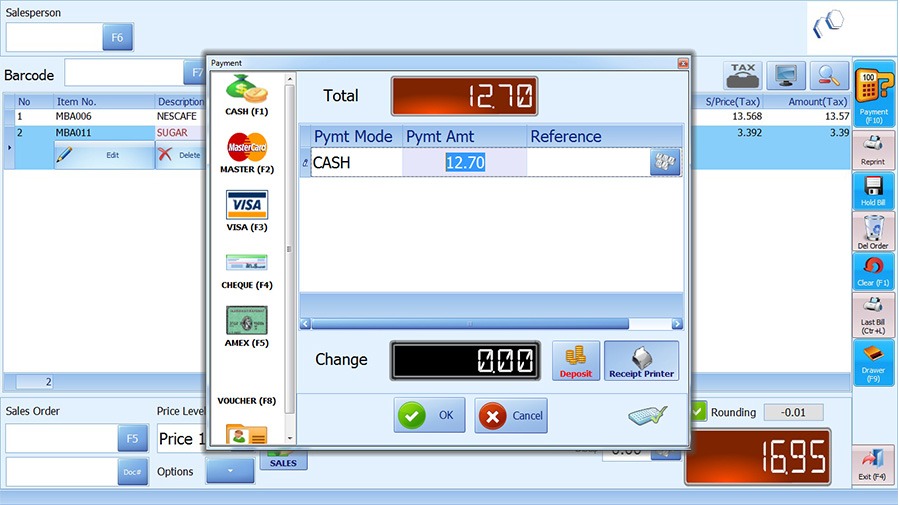 Business              
Type

Automobile
Bakery & Tea
Book & Stationary
Boutiques & Fashion Accessories
Bicycle & Motor
Beauty Service Shop / Salon Shop
Computer Shop
Florist & Gift
Furniture Shops
Mummy & Baby
Mobile / Handphone
Hardware Shop
Laundry Shop
Mini Market, Grocery
Music School
Optical Shop
Organic & Pharmacy
Photograph
Pet Shop
Vege & Fruit & etc
 

Language       

English
Mandarin 华语
Bahasa Malaysia
 

Customer

Invoice, Cash Sales & Delivery Order
Sales, Order Quotation
Print Address Label
Customer Transaction History
Customer Point Management
Treatment Management
Prepaid Management
Appointment Management
Measurement Management
Survey Report
Service Report

Stock

Stock Re-Order Reminder
Print Barcode
Promotion Price Setting
6 Levels Selling Price
Serial Number Management
Package Setting
Expiry Item Management
Link with Weighting Scale Machine
Matrix Item Management (Item With Colour & Size)
Multi UOM (1 Pack, 1 Strip, etc.)

Supplier

Purchase Order
Multi Supplier
Goods Receive
Print Address Label
Supplier Transaction History

Staff

Security Access Level Controls
Commission Calculation
Staff Attendance

Message

Send SMS (Via Internet)
Send Email

Report

Sales Profit Listing
Sales Analysis Listing
Customer Sales Listing
Top Sales By Item, Sales & Profit
Stock Listing
Inventory Audit Trial

Others

Integrated with Mykad Reader
Integrated with Member Card Reader
Integrated with Data Collector
Change Skin (Screen Colour)
SST Ready
E-Wallet Integration Ready
Integration with Credit Card Machine
Mobile Report

Accounting


Integrated with SQL Account
Integrated with AutoCount
Integrated with SAP

System

Window 10 (32/64bits)
Business            
Type     

Café
Bistro
Cafeteria
Kopitiam
Kiosk Outlet
Coffeehouse
Pub / Bar
Fine-dining Restaurant
Casual-dining restaurant
Bubble Tea Business
Japanese Restaurant

Language

English
Mandarin 华语
Bahasa Malaysia

Order

Table Plan
Combine Bill
Split Bill
Transfer Table
Kitchen Message
Up To 16 Kitchen Printer
Condiment

Customer

Cash Sales
Print Address Label
Customer Transaction History
Customer Point Management

Stock

Stock Re-Order Reminder
Print Barcode
Promotion Price Setting
6 Levels Selling Price
Multi UOM (1 Pack, 1 Strip, etc.)

Supplier

Purchase Order
Multi Supplier
Goods Receive
Print Address Label
Supplier Transaction History

Staff

Security Access Level Controls
Commission Calculation
Staff Attendance

Message

Send SMS (Via Internet)
Send Email

Report

Sales Profit Listing
Sales Analysis Listing
Customer Sales Listing
Top Sales By Item, Sales & Profit
Stock Listing
Day End Closing
Inventory Audit Trial
Mobile Report

Others

Integrated with Mykad Reader
Integrated with Member Card Reader
Integrated with Data Collector
Change Skin (Screen Colour)
SST Ready

System 
Window 10 (32/64 bit)
MSC Status Company Malaysia
What is the MSC Malaysia Status? Well for one, it is your passport to a host of privileges reserved for ICT and ICT-facilitated business. It is also a mark of world-class service and achievement.
2011 Asia Pacific Entrepreneur Excellence Award – Excellence Product
This Award Presentation is organized in response to the government's support for industrial development and advancement.
Asia Pacific Top Excellence Brand
The authoritative and influential Business Magazine, Global Business Magazine awards entrepreneurs, brands and companies for their achievements in the industry annually.
Asia Pacific International Honesty Enterprise Keris Award 2011
Honesty represents the operating and managing style of an enterprise, its reputation as well as public image in the market.
Implement Tukar Project With Tesco Malaysia
TUKAR serves primarily to build and improve Malaysia's small retail sector. TUKAR will not only increase efficiency of small retailers through industry knowledge and tools of the trade, but also create new jobs in the sector.
Implement Automotive Workshop Modernisation (A.T.O.M PROJECT)
IRS Software Sdn Bhd has successfully implemented the system for A.T.O.M project customers. 
IRS Software Sdn Bhd had achieve this quality assurance since 2013.
ISO 9001:2008 specifies requirements for a quality management system.
IRS Software Sdn Bhd is one of the Asean Outstanding Business Award 2013 winner. Guest Of Honour Y.B. Dato' Sri Ismail Sabri Bin Yaakob
Minister of Domestic Trade, Cooperative and Consumerism
The Leadership Excellence Award will be awarded to the outstanding entrepreneur who has shown business excellence in his/her industry. 
Our Customer Review for IRS Point of Sale System
Get Your Free Demo and Matching Grant Now