POS System Matching Grant Up to RM5,000 Budget 2021
POS System Matching Grant Up to RM5,000
Retail and F&B POS System with limited time offer – up to 50% discount
Good news for anyone who looking for an e-POS System or ERP System! We are excited to announce that, due to our remarkable growth and good reputation in the Malaysia market all these years! IRS Software Solution (M) Sdn Bhd is one of the appointed Technology Solution Provider (TSP) companies that eligible and entitle to claim for the 50% Matching Grant Application Program for all SMEs, announced in Government Budget 2020 & 2021.
What is TSP?
TSP is known as Technology Solution Provider that lead by BSN (Bank Simpanan Nasional) and partners with SME Bank group, MDEC (Malaysia Digital Economy Corporation) that initiative under Budget 2020 Malaysia. Only software company that appointed as TSP (Technology Solution Provider) by the government are eligible to claim for the Matching Grant, so who will be eligible to apply 50% Matching Grant Program? Let's refer to the eligibility criteria below.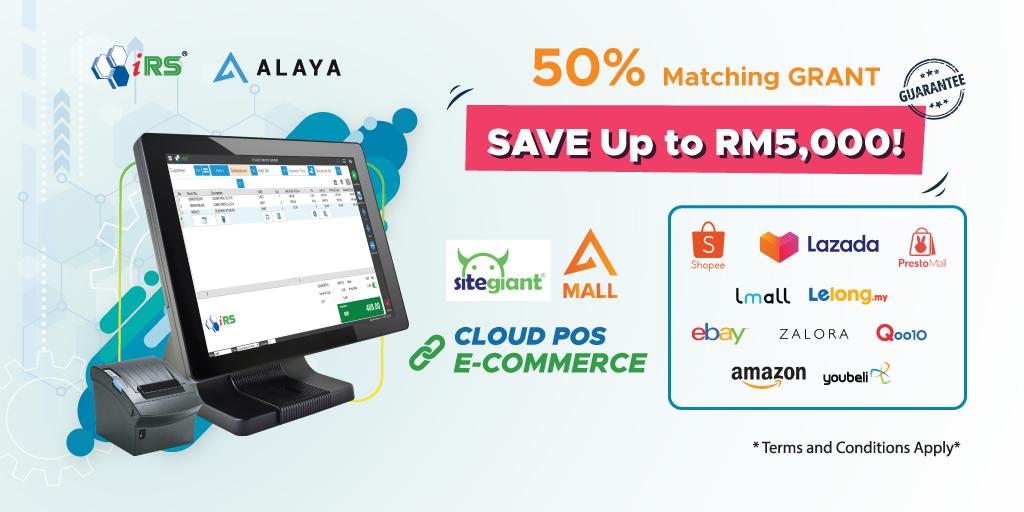 SMEs Eligibility
The Company is at least 60% owned by Malaysia
The registered under the relevant laws of Malaysia
The SME has been in operation at lest one (1) year
Company operation in one (1) year, company required to have a minimum annual sales turnover of RM100,000o
Company operations more than 2 years, company required to have a minimum annual sales turnover of RM50,000 (preceding two (2) consecutive years)
Five Digitalisation Areas that able to claim for a 50% Matching Grant Program including:-
Digital Marketing / Sales
Electronic Point of Sales (e-POS) system
HR Payroll system / CRM
Procurement
ERP / Accounting & Tax
IRS Software occupied 3 areas among the five digitalisation areas, including Electronic Point of Sales (e-POS) system, procurement, ERP and Accounting and Tax software.
Required Document
Complete Application Form and Declaration Form
Copy of Identify Card or Passport of Director (s)/ Partner (s)/ Proprietor (s) whichever is applicable
Copy of business registration license (CCM, Form A/B, Form 24 & 49 & M&A or any similar form under the Company Act 2016
Company's bank statement for the last two (2) months
Audited financial statement for the last financial year and the latest management account of evidence of sales turnover (if any)
Invoice or billing and service agreement from authorized vendor listed by MDEC
Company's Profile (if any)
Any other information and documents as and when required by the bank
Application Workflow
| | |
| --- | --- |
| 1. | The SME must contact and appoint one or more panel of Service Providers to perform any of the digitalisation services available (maximum of 3 panels). |
| 2. | The SME must complete and submit the application form together with the required supporting documents to any of the Bank's branches. |
| 3. | Once the SME's application is approved, the SME is responsible to pay the difference of the total invoice after deducting the subsidized amount granted from the Initiative and to provide proof of payment to any of the Bank's branches. |
| 4. | After proof of payment is provided, subject to the total invoice amount, the Bank will make a direct 50% payment of the total invoice amount or up to RM 5,000.00 to the Service Provider in one lump sum payment or in stages based on the Bank's discretion. |
It may delay the whole process if you're submitted the wrong or insufficient documents.
General question that you might ask:-
When can SME to submit the application?
Answer: SME can submit the application after the launch event which is 18 February 2020.
Total up to how many bill can be accumulated for the submission?
Answer: SME can accumulated total 5 bill with 5 solutions for the submission.
If the SME have many branches or franchise, did the SME can be claim by each branches or franchise?
Answer: SME can claim and submit by each of the branches of franchise if there are under difference company name.
Is our dealer's customer eligible to apply the grant?
Answer: Our dealer's customer not eligible to claim. Only the approved TSP's invoice, billing or service agreement will be eligible to claim.
Any platform that stated all the application criteria, workflow and also all the approved TSP?
Answer: MDEC, SME and BSN website will announce all the Approved TSP, TSP's roles and responsibilities, SME eligible criteria, document required and Application workflow
If you don't know how to apply for the grant matching, we can help you, you may fill up your information on our contact page:
Website: https://www.irs-software.com/contact-us/sales-enquiry/ 
Or if you want to know more information about our Alaya Product, Please Click Here
You may check on mdec official website for more information.
BACK TO BLOG PAGE