MSME Digitalization Grant Up to RM5000 for Purchase IRS POS System Year 2023
MSME Digitalization Grant Up to RM5000 Year 2023
Are you a Malaysian-owned Micro, Small, and Medium Enterprise (MSME) or Cooperative seeking to propel your business into the digital age? Well, you're in luck because IRS Software has been officially appointed as a Digitalization Partner by the Malaysian government. This exciting partnership allows eligible businesses to unlock up to RM5,000 in matching funds for their digital transformation journey.
MSME Digital Grant MADANI
The MSME Digital Grant MADANI is a game-changer for businesses looking to embrace digitalization. It offers a 50% matching grant, up to a maximum of RM5,000 per entity, for subscribing to services provided by selected Digitalization Partners (DPs). These grants are available on a first-come, first-served basis, so don't miss out on this fantastic opportunity!
Are You Eligible?
To take advantage of this grant, you must meet the following eligibility criteria:
1. Malaysian-Owned: Your MSME or Cooperative must be at least 60% owned by Malaysian citizens.
2. Registration Requirements: Your business should be registered with the Companies Commission of Malaysia (SSM)/Local Authorities (PBT) or the Malaysia Co-operative Societies Commission (SKM).
3. Operating Duration: Your business should have been operating for at least six months.
4. Annual Turnover: Your business must have an annual turnover of an average of at least RM50,000.
5. Previous Grants: Your MSME or Cooperative must not have received previous Digitalization Matching Grants.
What are the Required Documents?
To apply for the grant, you'll need the following documents:
Identification: A copy of the identity card or passport of director(s)/partner(s)/proprietor(s), whichever is applicable.
Business License: Business registration documents/SSM business profile/SKM registration documents.
Financial Documents: Provide your latest audited accounts, management accounts, or the latest two-month bank statements.
Invoice: Include the invoice or quotation issued by Digitalization Partners for the services you intend to subscribe to.
How Does the Grant Work?


Here's a quick overview of the grant application process:
1. Application & Selection: MSMEs and Cooperatives can apply for the grant through our online portal. During this step, you'll select the digital services you need from our Digitalization Partners (DPs) based on your business requirements and objectives. Please ensure that you meet the eligibility criteria.
2. Approval Process: Funding Societies, our appointed reviewing authority, will carefully review all applications. If your application is approved, you will be notified promptly. To secure the grant, you'll need to make a balance payment for the selected services within a 14-day period. This payment can be made via a specific payment link provided to you.
3. Payment & Service Delivery: Once your balance payment is received, the chosen DPs will deliver the selected digital services to your MSME or Cooperative. The grant covers 50% of the invoiced amount or up to RM5,000.00, significantly reducing your digitalization costs.
4. Claim & Disbursement: After the digital services are successfully delivered, Digitalization Partners are required to submit a claim form along with proof of service delivery. Once this claim is approved, you can expect a disbursement of 50% of the total invoice amount (or up to RM5,000.00) to be made to the DPs.
This grant is a fantastic opportunity for your business to thrive in the digital landscape, and IRS Software is here to support you every step of the way. Don't miss out on the chance to elevate your business with the MSME Digital Grant MADANI. Apply today and embrace the future of business!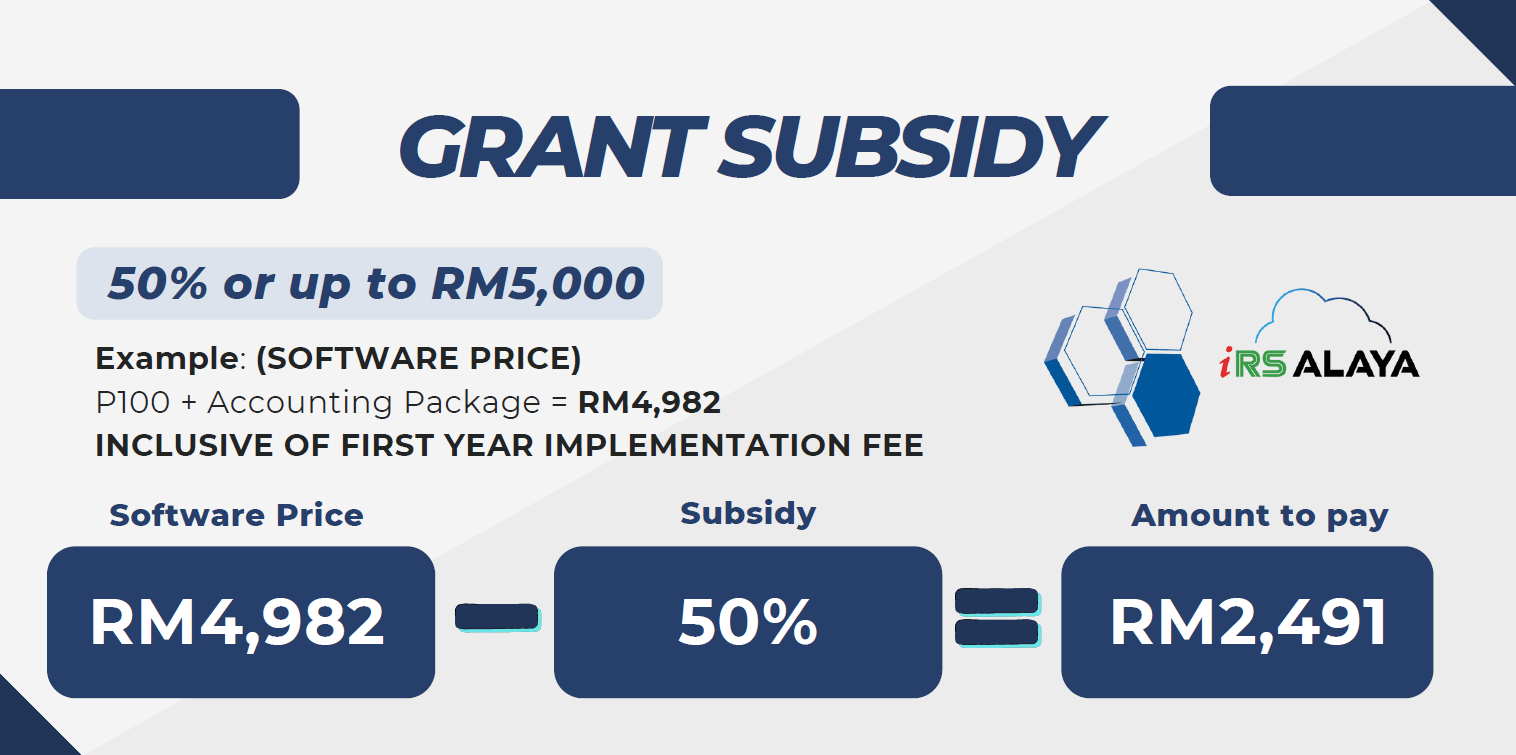 For more information, you may refer to their official website in order to claim for the Digital Grant, thank you.
You may also fill-in the inquiry form, we are happy to assist you.
To Know More About Our Product Click on the Product below:-
BACK TO BLOG PAGE